Nanning Bridge
---
Nanning City, China
Client:
City of Nanning, China
Date:
Construction completed 2009
Design completed 2006
Scope of work:
Design
Construction cost:
Renminbi 600 million (USD $80 million)
Services Performed:
Bridge site selection
Conceptual design and type selection
Final design
Erection analysis
Wind section model test and dynamic analysis
Issues:
Extensive peer review process
Visually innovative bridge design
Design for high seismic zone
Complex construction staging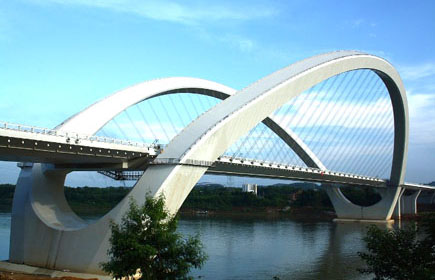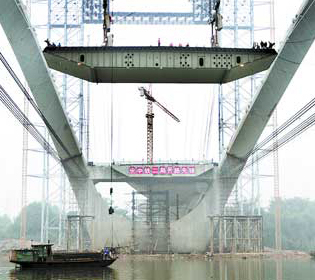 OPAC with affiliate Lin Tung-Yen China (U.S.A.) as Prime Designer of the Nanning Bridge, was engaged to develop a unique bridge form and design the bridge. OPAC and LTYC engaged Chainese subconsultants for geotechnical investigations, local liason, final construction plan preparation and other technical services. This is the first bridge project in China for which a foreign consultant has been engaged as the primary designer with overall project responsibility.
The Nanning Bridge carries six traffic lanes across the Yong River in Nanning City, China. A primary objective of the bridge design is to provide a unique bridge to satisfy the City's desire for a landmark, but with a rational and efficient form that meets performance and constructability requirements. The main bridge consists of a horizontally curved steel box girder with a 300 meter span, supported by two independent inclined steel arch ribs. The 300m main span provides adequate navigation clearance, the curved horizontal alignment provides efficient transition to city streets, and the inclined arch ribs support the curved deck as true arches, without significant in- or out-of-plane bending.
The bridge consists of a steel box girder with orthotropic deck, suspended from inclined steel box arch ribs oriented for optimal structural performance. Tie cables within the bridge deck resist arch thrust. The steel arch ribs transition to concrete elements beneath the deck to provide economy and durability. The viaducts are curved post-tensioned concrete box girders with spans of up to 55 meters supported on reinforced concrete piers. Technical details and validity of the erection program were performed by OPAC using time dependent step-by-step erection sequence analysis. OPAC developed an SFRAME/S3D computer model for construction staging analysis of the bridge.