Zilwaukee Bridge Construction Engineering
---
Zilwaukee, Michigan
Client:
S.J. Groves and Sons
(this company no longer exists)
Charles Loggan
(Project Manager for S. J. Groves, now a Project Principal with Obayashi Corporation in S. San Francisco, CA)
Tel: 650-952-4910
Email: chuckl@obayashi-usa.com
Date:
Construction completed 1987
Scope of work:
Construction Engineering
Construction cost:
N/A
Services Performed:
Value engineeing redesign
Construction engineering
Issues:
Design and analysis of a bridge constructed by precast segmental method
Development of a detailed stage-by-stage bridge erection procedure
Redesign portions of the structure due to changes in the erection loads
Complete consulting services for the construction of a long span bridge structure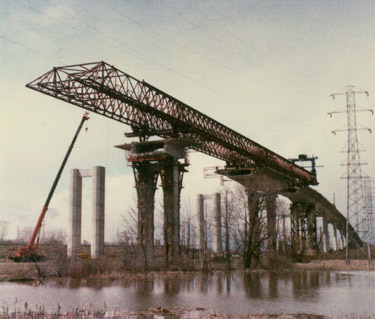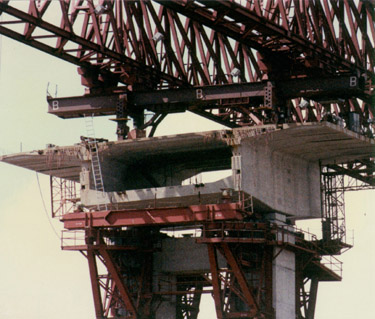 The dramatic failure of the Zilwaukee Bridge was successfully repaired by the State of Michigan in 1983. That same year, S.J. Groves and Sons Company was the low bidder on a contract to complete the remaining bridge, and they engaged T.Y. Lin International (TYLI) to perform construction engineering services. The contractor elected to continue the erection of the precast concrete segments by adapting the original method using the existing large and heavy erection truss and placing segments by the balanced cantilever method.
Kwong Cheng,current OPAC principal, served as Supervising Engineer while at TYLI and worked closely with the contractor throughout completion of construction.
Francis Drouillard, current OPAC principal, served as Resident Engineer while at TYLI and developed a program to safely move the erection truss in predetermined sequences.